Established in 1894, the Athenaeum Restaurant (The Rathskeller) is the city's oldest restaurant still in operation today. The restaurant is located in the basement of the Athenaeum building. The Rathskeller is reminiscent of both a quaint inn tucked in the Bavarian hills and a lively beer hall in Munich. Today, the Rathskeller is operated by a tenant manager.
Take a video tour of the Rathskeller
The Rathskeller is voted the Best German Restaurant in Indianapolis every year, even a true German feels at home here. With a diverse and delectable menu, there are items sure to please everyone!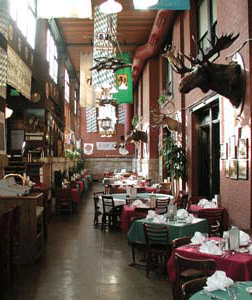 The Rathskeller features live entertainment Wednesday through Saturday with some Sundays. During the warmer months, entertainment is held in the unique biergarten space under the stars!
Visit the Rathskeller Website for menus and more.